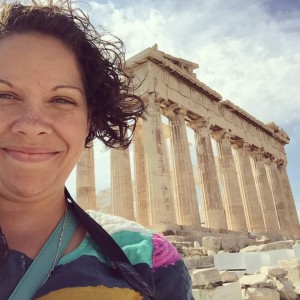 Hello readers! I'm back from vacation! Well… actually I was back about 5 weeks ago… either way, here I am!! And I'm ready to get my nose back to the grind!
But first… vacation was amaze-balls! Me, hubby, and my sister had an excellent time in The Netherlands, Czech Republic and Greece! We had not been on vacation in 5 years almost! More importantly, Levi did so great with his grand parents during those 2 weeks! How about some photos, you ask?? Well, sure! You can find the gallery at the end of the post. 😉
I'm pretty excited to tell you about these 2 AWESOME fabric shops I visited (read: left a small fortune at) while in Amsterdam! The shop "Den Haan & Wagonmakers" (love that name!) sold dutch heritage fabric and the shop next door, "Birdsnest", sold more modern fabrics.
And here is what I brought home!
Right away I started dreaming up what to make with my dutch fabric. After some deliberation and opinions, I decided on a Swoon Quilt by Thimble Blossoms. I'm so glad I did! I also decided to pair them with fresh modern solids so that it didn't feel too much like a heritage quilt. I wanted a modern-vintage feel. I think I am succeeding! Here are a few blocks I have done so far!
They look so good!
When I got back, I was happy to hear the The Simpsons (where I […]