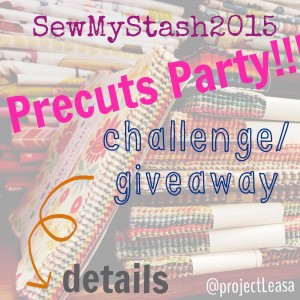 Are you guys ready for the next challenge??!! It's PRECUTS!!!!
That's right! Use up those mini charms, charms, jelly rolls, honey buns, layer cakes, Fat quarters, Fat eighths, dessert rolls, honeycombs and turnovers! We all have them… looking so yummy stacked pretty in our fabric cabinets and on our shelves… looking like our very own fabric store……… AHEM…. let's use them! We will be using the hashtag #SewMyStash2015PrecutsParty to share our work together! There will be another giveaway at the end. Details for everything below!
Rules!
1) Your fabric must come from a precut bundle. I will accept your own precuts as long as it's from all the same collection, or manufacturer, or designer. I believe most manufacturers make precuts, but the most popular are Moda and Robert Kaufman. But in case you didn't know, Windham Fabrics and Cotton + Steel make them too! (I only just discovered this while researching for this post!). Anyway, the point is to use up coordinating precuts!
2) Again, sew anything you want!! This will be a common rule! It does NOT have to be a quilt! Precuts are super great for pillows, fabric baskets, backpacks, and bags too! This challenge may not lend itself well to apparel sewing, so if you make a lot of clothes, break out of your comfort zone and try something else!
3) Yes, you may purchase fabric you need for background/sashing, backing, binding, bag hardware, etc. Just use precuts that are in your stash!
4) This must be complete in 4 weeks! That's Sunday March 8th! For quilts, we will accept quilt tops completed. I gave a lot of time for this challenge so that sewers can make an actual full size quilt!
5) To be entered in the giveaway, you must link up HERE! Since this will be such a long challenge, I cannot reasonably cycle through the hashtag and write down each of your names. Instead, you will link up here by submitting 1 picture of your project. The link up widget will number the submissions, and then I will use the random number generator to get a winner. This also makes it easy for non-Instagram users to participate and for everyone to see each others submissions!
Bonus!!! You may submit a SECOND entry if you complete another project that coordinates!! Example: quilt top and pillow, 2 pillows, purse and little zippy, etc. I hope you get the idea.
I will reveal the giveaway items soon, and the link up will be active in the next few days.
Happy Sewing, and thanks for playing along!
Leasa
PS. I super love all the use the hashtag is getting and the buzz about SewMyStash! You guys rock my socks off!
****UPDATE***
We have a giveaway package!! Amanda of Westwood Acres and Jennie of Clover And Violet have graciously donated to the giveaway package for the Precuts Party! Westwood Acres will be sending the winner a 25 piece fat sixteenth bundle from the Liberty London Club! The winner will need to provide me with their address and Amanda will send the bundle direct. Clover and Violet has offered up $9 shop credit so that the winner may chose a PDF bag pattern of his/her choice! Winner will be provided with a coupon code to use in the shop. I will also send a small care package to the winner! Keep up the great work!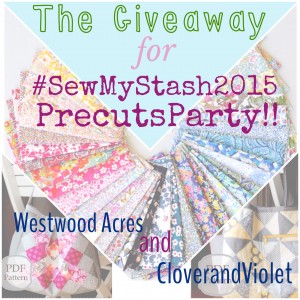 Loading InLinkz ...