I've been holding in a little secret that I can finally share! Well, maybe I was allowed to share before, but I doubt it and I didn't ask… and secrets are fun! Anyway…. I was interviewed for a magazine!
Make Modern Magazine is an Australian based digital magazine, made by quilters for quilters. They produce bi-monthly issues and are on their 4th one! Even though they are somewhat new, their issues are packed full of great articles, tips, tricks and projects! The issues are easily over 100 pages! I feel totally honored to share the digital pages with other great quilting enthusiasts!
Make modern contacted me to be included in a section they were dedicating to sewing your stash. I got to answer a series of great questions and send some pictures of my not-too-giant stash to be included. I ended up with 2 whole pages discussing the #SewMyStash2015 challenge that I started on Instagram! If you have read my previous posts for SewMyStash, you know the story… but I still highly recommend you head over to Make Modern's website and get the latest issue! If not only to check out yours truly, then to pour over the entire issue in all its quilty goodness!
Thanks for all the support and participation in #SewMyStash2015! Its been so fun so far and there are many more exciting and interesting things to come!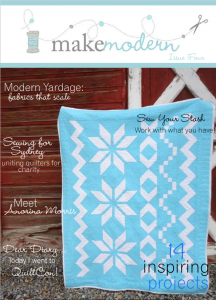 Leasa