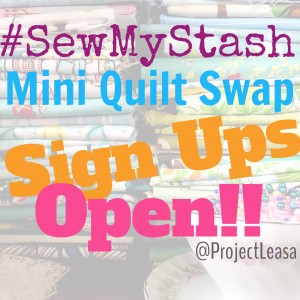 Welcome to the SewMyStash Mini Quilt Swap! Below you will find the details and rules for this swap. It is open to international sewers as well as domestic! The ship deadline for international is October 3rd and final deadline is October 12th. My intention is for all packages to be received by the end of October. Since this is mostly stash sewing, everyone should be able to get started right away and finish easily within the deadline. There is no specific theme, you may request anything from your partner, including holiday related! The link to the google form is at the bottom of this post! Happy quilting!
The Details:
It must be a mini quilt ranging from 12″x 12″ to 24″x 24″
It needs to be 75% stash at least! Really try hard for this, guys! Its the honor system, but its also the fun/point of this swap!
Lets try to keep the extra goodies to yardage or scraps from your stash or other little things! No need to go on a shopping spree. You are welcome to use more stash to make something small, of course!
We will be using the #SewMyStashMiniQuiltSwap hashtag as well as hashtags for swap mamas (example: #LeasasStashSewers)
Be aware that people will be pulling fabrics from their stash for you! I recommend being generous with your info on the sign up form and with your posted mosaic.
Know that this swap is open to all skill levels, but we will be attempting to pair people up who would fit well together.
This is a SECRET swap
The swap is limited to

350 participants
Rules:
You MUST have a public and active Instagram account!
You MUST post a mosaic of inspiration for your partner within 1 week of partner assignment
You MUST check in with your swap mama at the halfway point of September 1st. You need to have started by then!
International shipping deadline is

October 3rd

Final deadline is

October 12th

You MUST notify your swap mama when you send and receive
You MUST properly thank your partner for their hard work!
Swap Mamas:
@crazydutchbirdquilts @jaclynb @london_and_granger @megsincali @sewhoitytoity @wolfykisses @projectleasa
SIGN UPS ARE NOW CLOSED!
Leasa