I decided to do a post with the details of my triangle quilt! I got so many great compliments and people were asking for a how-to. This is going to be sort of like a step-by-step but you need to know the basics of sewing and quilting at least. This was a beginning quilting class I took, myself, at Sew Modern in Los Angeles!
1. Materials:
Basically, you need 1/3 yards of 16-26 prints. Depends on the variety you want in your quilt. You also need some batting (twin or queen size) and about 4 yards of backing. Also, I highly recommend you purchase the 60º ruler HERE on Amazon. Its a great one to have in your sewing stash and its the one used for this quilt.
And other quilting stuff like rotary cutter, basting pins, etc.
2. Cutting & Arranging Pieces:
Start with cutting 2 triangles of each print. Start arranging however you like, then decide how many more to cut of which fabrics to fill your holes. Points match up with points, sides to sides.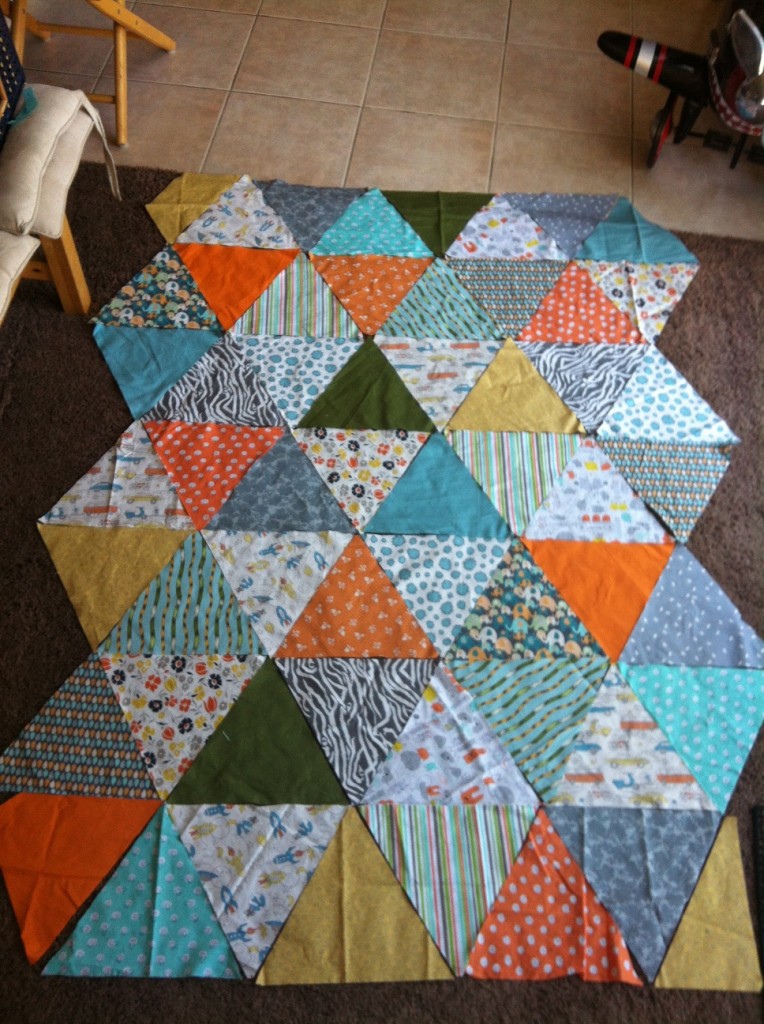 3. Sew, sew, sew:
Sew triangles together by row. Then match rows up by first matching seams. This will make sure you are as close as possible to lining up points. Also, its easy to stretch and pull a little here and there if the cuts of your triangles vary a little. No one will notice and try not to be too anal about it. Sew rows together. 1/4 inch seam allowance on EVERYTHING!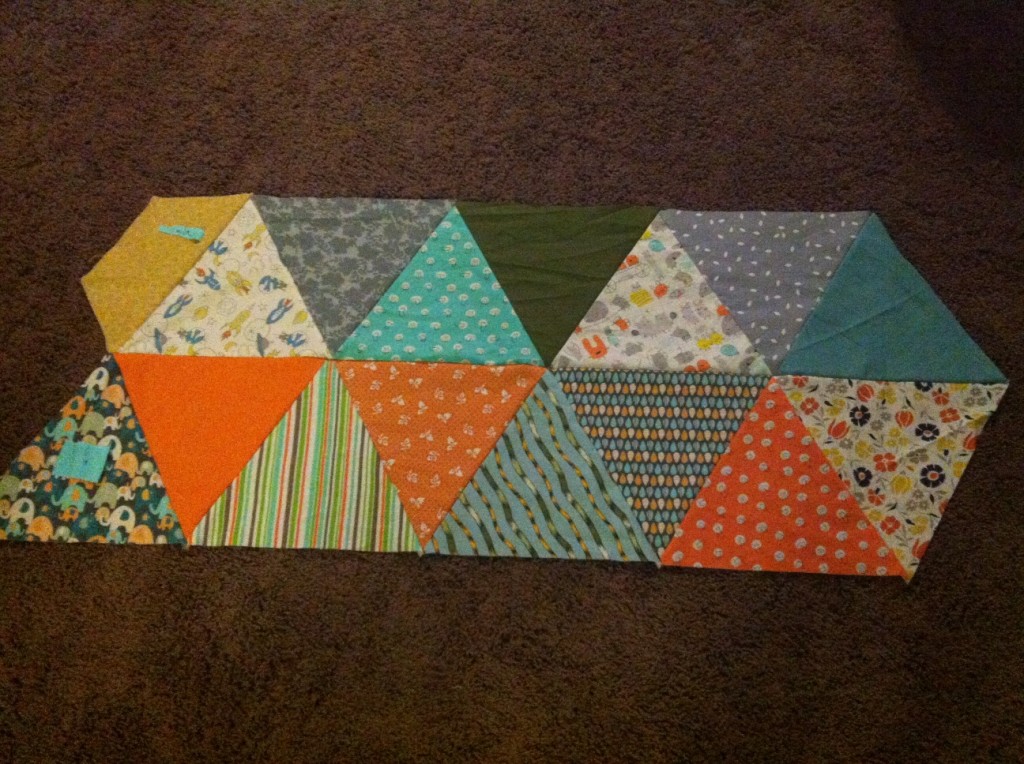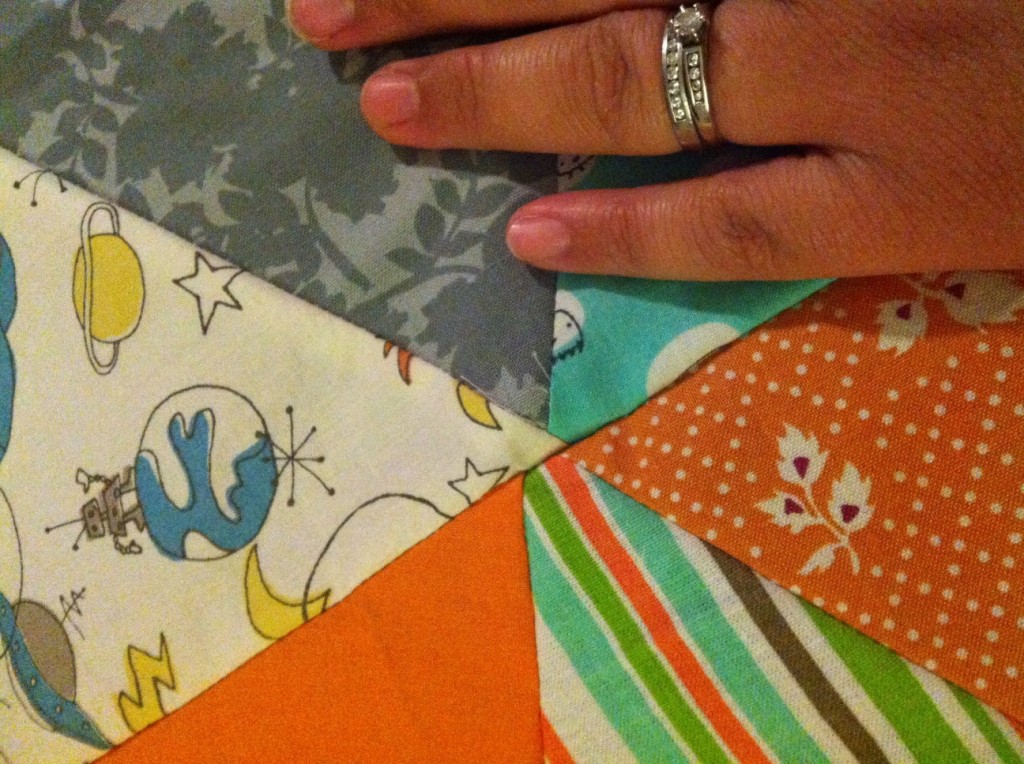 4. Iron:
You need to steam iron the backside where the seams are. Don't press them open. The point is to press them down so they are less bulky. Press them in what ever direction they naturally want to lay. Just get them as flat as possible.
5. Tape, Pin, Quilt:
If you have a method you like for making a quilt sandwich and finishing your quilt in general, then go for it! If you dont have a way, you can try what I did 🙂
Use masking tape to tape down your back fabric, wrong side up! Then your batting. Tape it down too. Then the quilt top right side up. You want to tape it kind of taught because you want to pin it with little slack so that you don't quilt over any wrinkles and create puckers. SMALL PUCKERS WILL HAPPEN! Its impossible for no wrinkles to happen at all, you just don't want giant spots that were unsmoothed. Pin your fabric with the curved basting pins no further apart that a hands width from each other. Start in the middle and work your way to the edges, smoothing with your hands as you go. You will use a lot of them. Make sure the pin goes through all 3 layers! Now you are ready to quilt! I chose straight vertical lines, but you could do them on a diagonal or free form I guess. I just winged it so the widths between the stitched lines varied and they were not exactly straight but I didn't mind. Remove the pins as you go. After you quilt it, cut off all the extra fabric, making it into the clean edges. In doing so, you will be cutting the end triangles in half.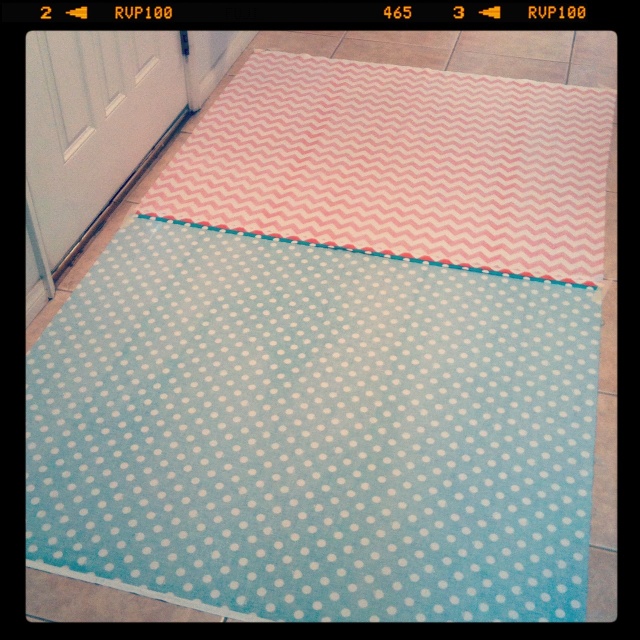 <—- back taped down.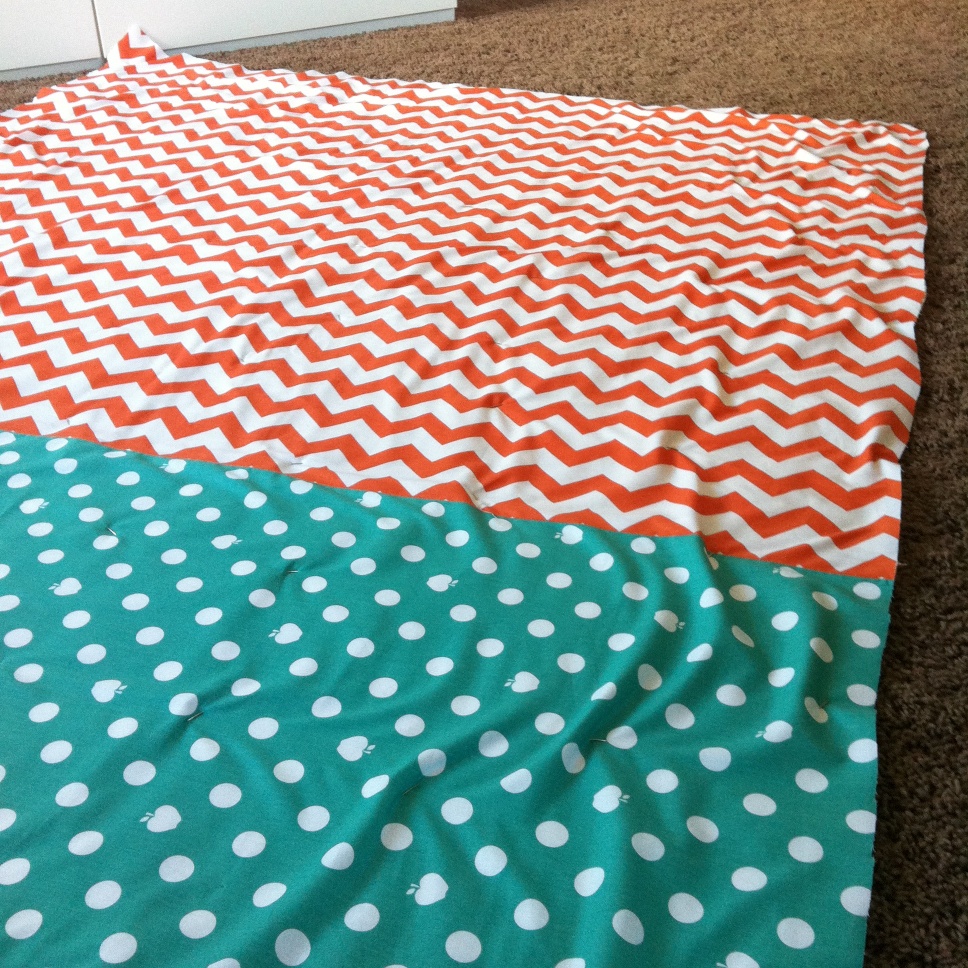 <—- after pinning, mine wasnt smooth enough so I repinned (without taping a second time) and just really smoothed as I went. Still from the middle out.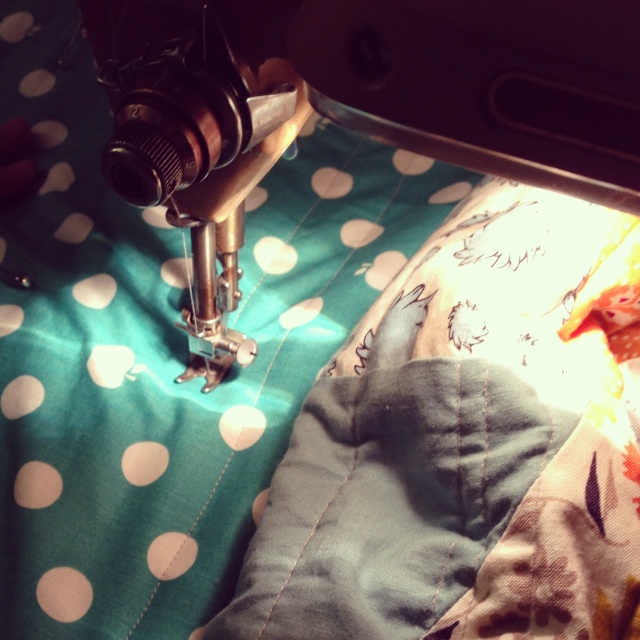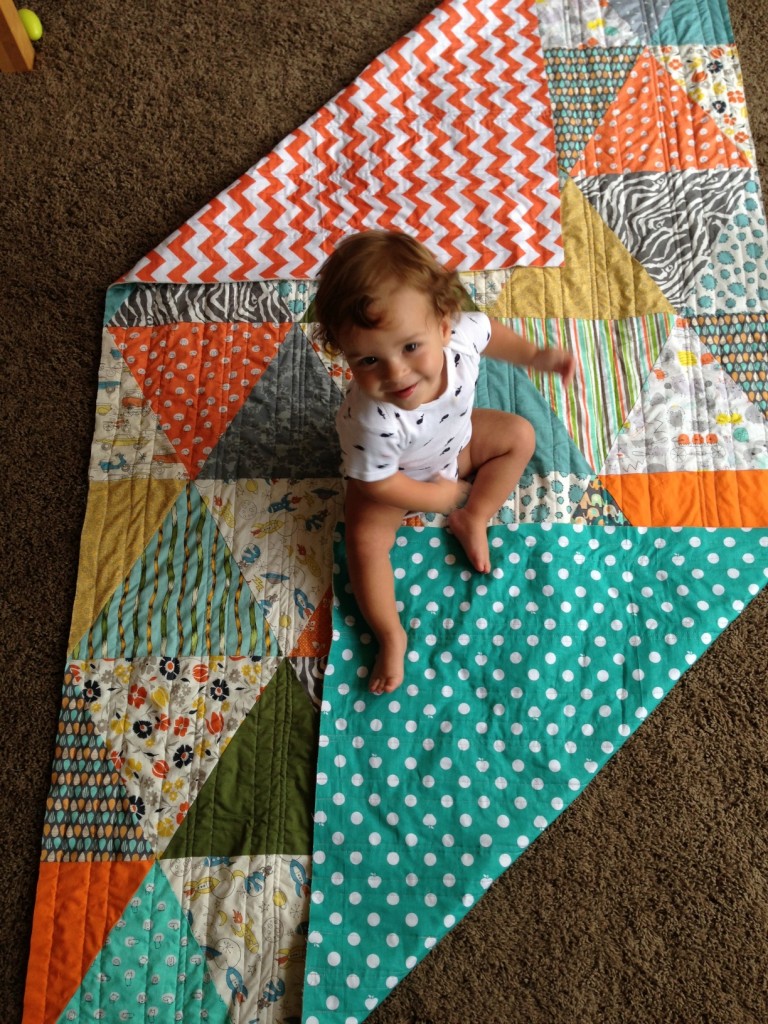 6. Make Binding and Attach Binding:
The binding you make isn't going to be cut on the bias. Instead, you will cut 2 1/2 inch strips out of your 1/3 yards of fabric. Start by folding your yardage in half, then cut your strips, vertically. So each cut strip is 2x as long. Sew your binding strips together. If you don't know how, diagram below. Then press your long binding strip in half (wrong sides together) so its now single fold binding tape. Learn how to make your binding HERE from Ava Landen. Make sure to fold your binding in half and press.
Now its time to start attaching your binding. Match up the raw edge of your binding with the raw edge of the back side of your quilt. Sew around with a 1/4 seam allowance. Don't pin the binding, just position it as you go.. trust me, its better that way.  Make sure when you get to a corner, you make a mitered corner. Sew all the way to the end, finish off, then fold the strip over itself to make a 90˚ angle. Then fold again back the other way along the side of the quilt. Learn how to do a mitered corner HERE from About.com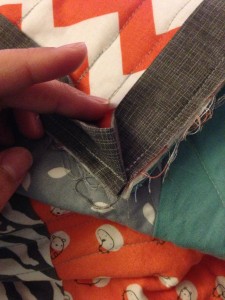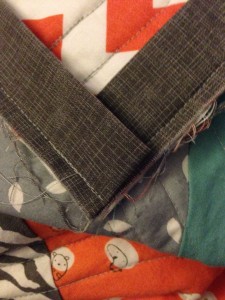 Stop about 8″ from your start spot. You need to attach the ends of the binding seamlessly like the rest of it. Use this video tutorial from "Sew Modern" (where I took my class). Finish sewing the binding to the back.
8. Blind Stitch to Finish:
Now, fold the binding over to the right side and finish off with a blind stitch.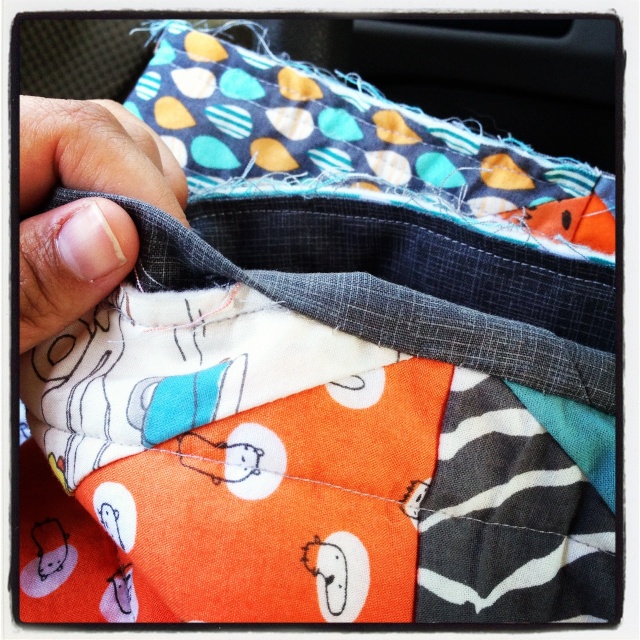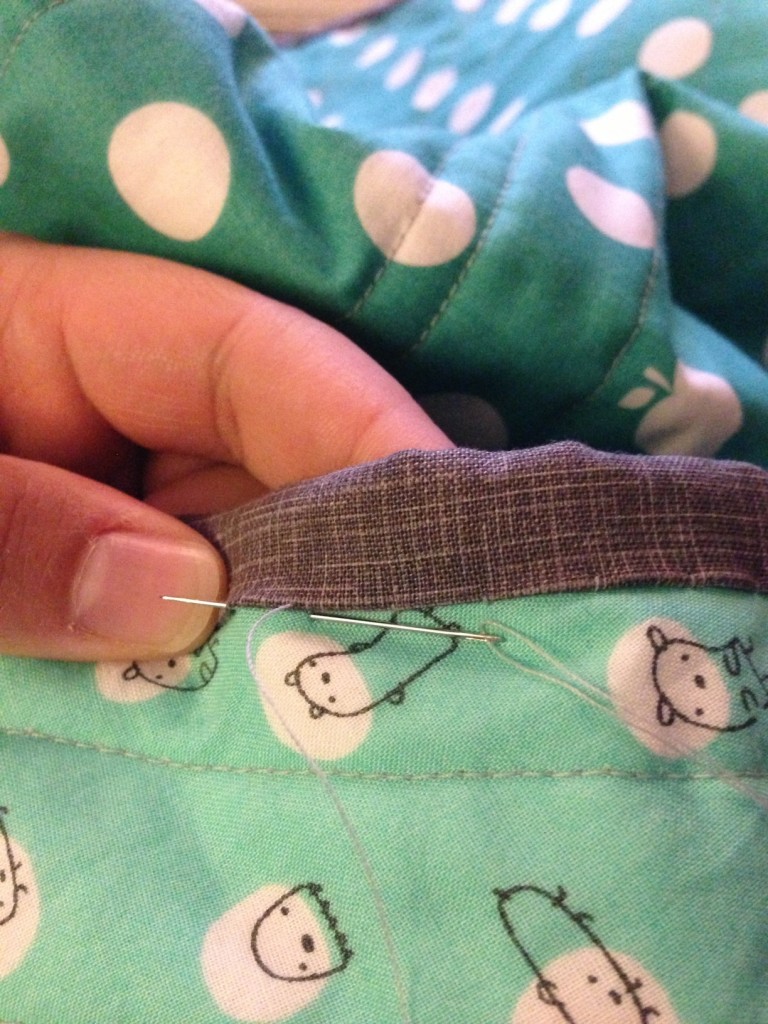 All Done!
HUGE thanks to Sew Modern for this class! It got me hooked on quilting. And also, this is their quilt pattern, not mine. All the high-fives belong to them. 🙂
~Leasa