I haven't written about our latest adventure in Levi's health on my blog yet, but recently we finally have a lot of answers and so I am ready to share. Here is a quick back story…
Around spring of 2013 I realized Levi was getting sick. A lot. And always with a high fever lasting 4-6 days. When I would take him to the Pediatrician, they would check all the usual and sometimes even a UTI but everything was always negative and concluded he had some form of "virus". This was really weird to me because he was never a very sick infant. Hardly at all! After having a particularly bad episode of fever in July, including x-rays, ER, blood draws, catheter, antibiotics, possible Kawasaki's disease, and just about ready for hospital admission…. I knew something wasn't right. But on the 7th day, the fever went away and he woke up like he was never sick at all. Umm… ok… I guess. Then 3 wks later it was back and I asked to see the specialist.
Since then I have been thrust into the world of  PFAPA (Periodic Fever, Aphthous Stomatitis, Pharyngitis, Adenitis Syndrome). I recommend you read the information from this site about PFAPA before continuing, if you are not already familiar. I think does the best job of giving a quick run-down.
In Aug, we began seeing the Infectious Disease (ID) doctor, which is commonly the first step with "fever of unknown origin". With her, he has had multiple blood tests, exams, as well as reviewing the fever calendar I composed showing all his "sick" times. From the picture below, you can see how cyclical it is.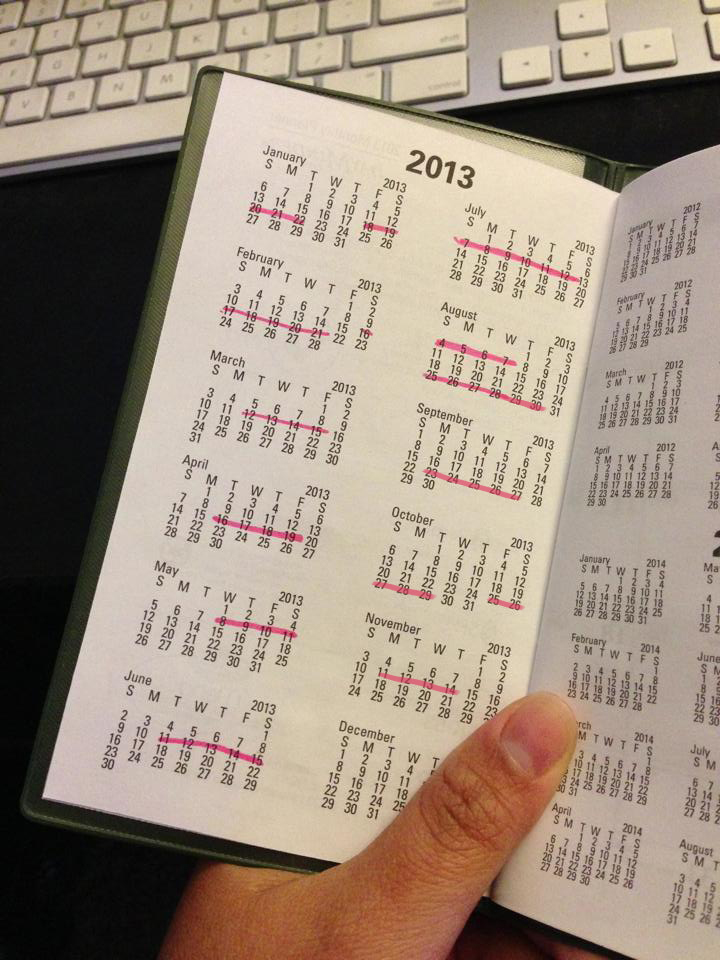 He has been mostly diagnosed with PFAPA up to this point. I know "mostly" is somewhat vague but this syndrome is newly on the books. Added only in 1987. That doesn't mean there are not cases prior to then, only that they were not recorded as PFAPA because PFAPA classification didn't exist before that. Up to this point, Levi's pediatrician and the OD doc were helpful and supportive as much as possible… but that could only go so far seeing as they have only a handful of other cases.. maybe less. I joined a few PFAPA support groups on Facebook and they proved to be quite a blessing to hear from other families and what they go through with this very exhausting syndrome. One of them told me of a Dr. Lori Broderick and Dr. Hal Hoffman who, together, are the leading team of clinical research and studies into Periodic Fever Syndromes. I sent her an email and she responded right away, inviting Levi and I to visit them in San Diego 2 days later. Here is how that went:
I gave Levi's entire history and brought copies of his labs and fever calendar. He gets fever ranging from 103-105 for 4-6 days straight. No other symptoms accompany this fever. About 5 days before, he seems to eat more than usual. The day before, he is incredibly tantrumy and unmanageable. The morning of, he gets clingy and whiny and opts to be held a lot and not use his familiar words. By lunch/nap time the fever has usually started. We have been treating with tylenol and motrin to keep the fever down but it only drops to about 102 typically. He is lethargic and doesn't eat much. He will drink milk and water, though sometimes we really have to encourage him, and he will eat fruit. The last 2 episodes Levi complained of joint pain by telling us "ouch" and "hurt" in areas that have no business hurting. And crying of course. I have only seen 2 mouth sores on his tongue.. but he may have bit it. The episode on Oct 25th we used the steroid Prednisone for the 1st time. It worked within a few hours. We had to give a 2nd does on the 3rd day, but the fever stayed gone. The other behaviors that come with the episode hung around for the full 4-5 days. We noticed some slightly more enthusiastic behavior as well as more aggressive behavior for a good week after. Then, the next episode arrived only 2 weeks later. We gave a single does and it worked only 1 hr later and stayed gone. We are unsure if it was an actual episode because a runny nose came too, but also could've been because of allergies. We will have to see if it keeps coming sooner, meaning it would be the result of the steroid.
I gave my history which includes getting my own tonsils removed at 7 years old for recurrent tonsillitis. I also suffered horrible mouth sores for a good portion of my childhood, only to have them disappear some time around middle school.
Dr. Broderick diagnosed Levi as classic PFAPA. They have also, via their research, created a subcategory called SURFS (Syndrome of Undifferentiated Recurrent Fevers). This category is for all the a-typical PFAPA-like cases they see. Things like fevers not being predictable enough (stopping for 3 months, then restarting, changing frequency) or fever not high enough. Anything outside the definite PFAPA criteria. These patients suffer most closely to what PFAPA and other types of Periodic Fever Syndromes, but are not at this time believed to be full PFAPA diagnosis. Again, this is so new, they don't have all the data and classifications for Periodic Fevers.
We talked about various treatments including the tonsillectomy. I told her the ID doc said his were small and don't seem to pose a problem. She said often they cant see all the tonsil until they remove it, but even then Levi is kind of young and little for it. Majority of patients have them out as the kiddos approach school age. We agreed to keep trying the steroid and she gave me alternatives and various scenarios to adjusting the dose and frequency to find the right balance for Levi.
We will follow up with them every 6 months and to keep recording in our fever journal. Especially as Levi becomes more aware of what he is feeling and can actually communicate them, like the recent joint pain. We don't know if he was having it before and couldn't tell us until now.
They want to double check him for the HIDS form of Periodic fevers. It typically has more joint pain issues. They can check for a specific marker in urine collected during a fever episode.
The coolest bit? Learning that in their current studies, they are trying to find the marker in the gene for actual PFAPA, which would allow testing for that marker in diagnosing future patients. AND Levi will be adding to that research, just by seeing them :). As it is right now, there is no way to test specifically for the PFAPA form of Periodic fever syndromes (there are hereditary types that are really rare that do have a genetic marker to test for. His were negative, but as mentioned they want to double check the HIDS one).
That's all she wrote… for now. Ask away and I will do my best to answer. Also, enjoy the mini gallery of some photos I took during our half day in San Diego :). The other girl pictured is my sister, Shannon.
Leasa
PS. If you would like to read more about PFAPA from other moms experiences, pop over to this lovely lady Sarah Bendel, who was the first PFAPA mom to befriend me, answer questions, and give amazing support. A few months ago she wrote a great post answering common questions people have about PFAPA. Read it HERE.
*note: this information is from my recollection from our visit and consult with these doctors and my personal experience. This should not replace info from your child's own doctors nor used to self-diagnose.*