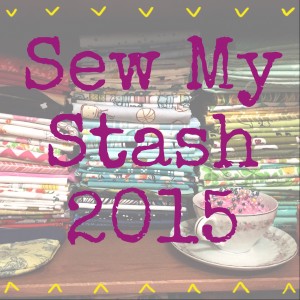 Well hello sewers! It's been a few months since my last post, thanks to the Holidays, but I felt it was important to write a post for the end of the year.
I have to say, I am really impressed with the success of #SewMyStash2015 for all of you! The hashtag on Instagram has over 10,000 posts! I've seen countless AMAZING finished projects, commented on more than I can count, and loved every moment of it! Toward the first half of the year, we had a little more steam and started with a few great challenges that were well received! I also was part of Make Modern Magazine's March publication sharing the SewMyStash movement in an interview! That was awesome! But the biggest project for SewMyStash was the Mini Quilt Swap. We had over 300 participants! It wrapped up in early November and I think it was successful, though stressful. I definitely have extra respect for swap hosts and swap mamas! (Click HERE for all the SewMyStash2015 blog posts)
What's the plan for next year…..?
Well, if you all are like me, then I am SURE you still have plenty of stash you didn't get to! So… we will be continuing SewMyStash into 2016!! Yayyy! I already have a few ideas for challenges and this time I think I will make a calendar ahead so sewers know whats coming up! It would also be great to get a blog hop or guest sewers to keep it going through the summer for me since I should be out of commission for a few months. How does all that sound?
Lastly, I want to celebrate you all on your stash sewing accomplishments! I would love for you to post your 2 most favorite stash-sewing projects in the linky below! You have until December 31st at 11:30pm PST to get your submissions in! There will be giveaways! I will update this post when I have the goodies decided and sorted!
How many projects did you finish? What didn't you get to? And let me know if you have any ideas for fun group challenges!
Thanks so much for participating and supporting! Let's keep it going into 2016!
Loading InLinkz ...